...to where most sensible winter divers have allready gone.
Well the Wellington Waters has finally pushed me to the Dry Suit crowd,I have tirelessly dived in 7mm suits from 87' till today which will likely be my last in a wet suit as my Dry Suit arrived today fresh and still smelling of sealant from OTTER UK. (And I did get some change out of 3K,not much but a bit ha ha ha)
I have never really been to fussed about the water temp,but my current fitness fad and dropping from 99kgs to 90kgs and dropping has taken its toll,recently the water temps have been between 9-11 degrees and after the first 10-15mins I have been feeling the cold.
So here I am joined the ranks of the Drysuit crowd ready for the Poor Knights...
I have also got myself a set of ARTIC 4RTH Element undergarments as well thanks to Andy and DD for their reccomendations on them and a huge thanks to Pete M from Drysuits Direct for his help and honesty and direction.Awesome guys!!!
Anyway here I am all dressed up with nowhere to Dive..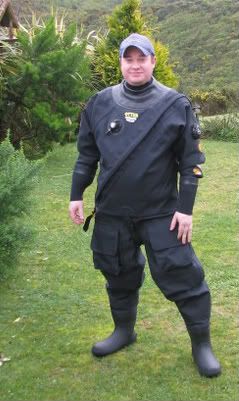 The suit seems to be a good fit,and the neck and wrist seals seem very good....but without the water test who knows..
I did however test out my new ZEAGLE TECH BCD on tuesday night and it was an absolute dream,fantsatic bit of Dive kit,functional,exellent craftmanship,ridiculously comfortable,and amazing stability under the water,and with the right amount of rear trim weights I can sit on my back in the water like sitting in a 65lbs lift lazy boy....great!! (And the service from Mark the NZ Zeagle dealer is also ridiculously good,top man)
My trusty AQUALUNG BC is now gathering dust with the Ark and all my other obsolete Dive gear..
Either way,thanks guys and girls for your input...