Sorry don't have a camera yet but wondered if anyone can recomend good site for identifying NZ species.

While diving yesterday, (in Queen Charlotte sound) I saw what I guess is a type of sea slug. It was bright Purple, around 230mm long, head looked like a snail, and had white thick blunt bristles growing from its back sort of like a scalp massage hair brush. Rocky bottom with silt below, about 12 M and temp 17c.

Trev
Member
Posts: 10
Joined: Mon Jan 03, 2011 4:47 am
---
You do not have the required permissions to view the files attached to this post.
Member
Posts: 1776
Joined: Wed Apr 01, 2009 5:03 pm
Location: Peoples Republic of Wellingtron
---
Thats a Jason mirabilis BB and they dont get as big as 230mm.
Biggest I have seen would be 50mm or so.
And here is a much better pic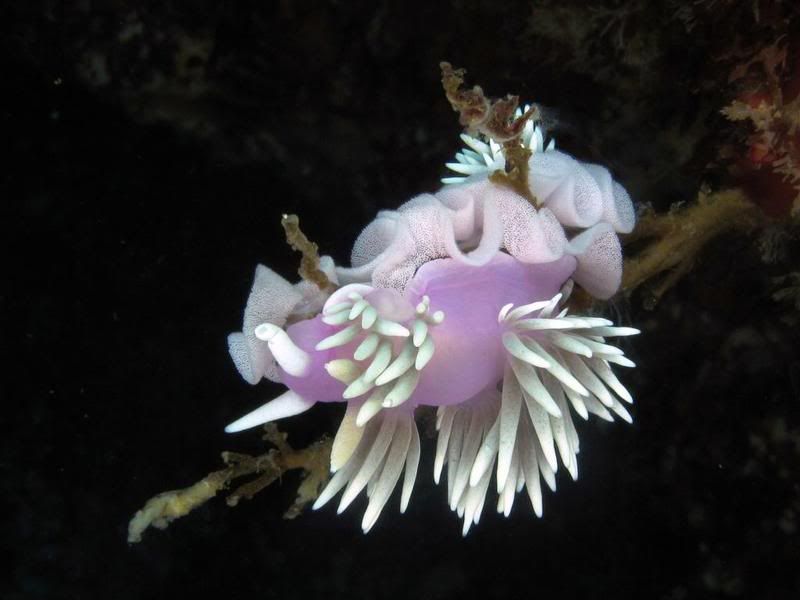 There are a few great slug ID sites on the net. I cant think of any names at the mo but in the mean time try this one.
http://slugsite.tierranet.com/
Last edited by
ChuckyBob
on Sat Jan 08, 2011 4:06 pm, edited 1 time in total.
Member
Posts: 1288
Joined: Fri Apr 03, 2009 1:51 pm
Location: over here.
---
Looks close.

Data sheet says they only grow to about 55mm so I either saw a mutant or suck at estimating size under water.

Thanks
Trev
Member
Posts: 10
Joined: Mon Jan 03, 2011 4:47 am
---
The easy way to guess size of small beasties underwater is to measure your hand span between little finger and thumb before you dive. I have small hands and mine's a touch over 200mm, half is 100mm etc. 230mm sounds huge for a Jason.

For future ID try Ian Skipworths site.
U/W Photographic genius
Posts: 1012
Joined: Tue Aug 14, 2007 9:19 pm
---
---
Who is online
Users browsing this forum: No registered users and 1 guest