Hi Max X9 video light
Posted:
Sat Jun 21, 2014 9:19 pm
The switch is a rotating magnet and its action is very smooth. It clicks at both in the on and the off position. Although the clicks do not seems to add much resistance to turning it on or off, this shouldn't be an issue as there is some slight resistance to rotating it so it shouldn't turn on or off by accident.
The silvered coloured collar below the switch is machined aluminium ( looks like plastic in the photos) and is held in place by a single grub screw. This should allow for easy removal of the switch in case of the need for cleaning. I couldn't test this theory as the grub screw is a very small hex and the smallest I had was 1.27mm. Im guessing its a 1mm.
One concern I do have is the materials of the switch mechanism. Since I have yet to disassemble it I am unsure if the magnet is exposed to the elements and if it is is it the type that will not corrode? Does the "click" indent use a corrosion ball bearing and spring? I have seen some other adequate looking dive lights that suffered due to these issues.
Orings. This has 2 at the top of the barrel where it meets the head. One clear and one green. The green one was clearly damaged and would need replacing before use. The tail cap has 3 smaller Orings. One green and 2 black. I am unsure what the different colours represent if anything. There is a set of spare O rings and the rear ones are 2 clear and 1 green. I think it would be wise to swap out all these O rings. I do this with most of my dive lights i purchase.
The front lens is held in by a bezel. I dont want to try and remove it so I can only guess as to its thickness and what is behind it.
The LED looks to be a cool white Cree XML2. While I am happy to use cool white for video others may prefer a high CRI warm white choice. I have no way to measure lumen but I can measure current and at 8 volt the LED and driver draws 1.1 amp My guess is the driver would probably account for 10% or more of that. Based on that alone my guess that this would struggle to produce the claimed 1000 lumen but it is probably close enough to not be concerned with and on par with most other XML2 based lights.
If I compare it to another XML2 based video light I have I would say the X9 has a very slight blue tint. The beam angle is slightly narrower due to the LED being mounted further back but the beam is much more consistent in brightness with no hot spot.
Body is all aluminum with a matt finish. All the writing is engraved ( laser?) and then coloured white. The base has a single 4mm hole for a lanyard or snap bolt attachment.
At 195mm long 44mm wide at the head and 27mm wide on the body this isn't particularly large and should be suitable for most small and large camera set ups. Lets face it, if you wants lots of light and or run time you will need a large light.
Batteries and run time. This unit was supplied to me with 2200mah 18650 cells but normally it is supplied with 2600mah cells. I have not taken the time to measure the capacity but since they are "only " rated at 2200mah my guess is that this is probably quite accurate and think the 2600mah cells would be too. In saying that I would suggest using Panasonic 3400mah cells for a longer run time. Calculated run times would be as follows
2200mah 1.85 hours
2600mah 2.2 hours
3400mah 2.85 hours
Given that, even the 2200mah cells should be enough for a single dive for most divers when used for the whole duration of the dive.
What I Like:
To be honest I like just about everything about this light. The fact it takes 2 18650's is great and similar single 18650 videos lights may fall short in run time on some dives. It has no annoying strobe/SOS modes. Sure, a low power mode may be an advantage if you want longer run times but then I think 3400mah cells would be a better solution.
What I dont like:
Im struggling here. Perhaps a better choice of XML2 bin more suitable for video lighting. This of course would increase the cost. But I think those that demand high CRI lights would be more than happy to pay the extra. Also a more common size hex key for the switch retaining ring would be nice. Orings, give me high quality black orings.
Improvements:
Perhaps a 26650 version with a more uniform body diameter for longer burn times. Maybe a can light version with 3 XML2's! Or just a 2 x 26650 version with 3 XML2's. That would be very cool.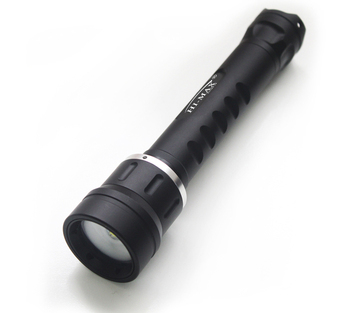 *Small print. The manufacture of this light asked me to write this review. No payment was offered or asked for. I do however hope they dont ask for the light back. I really do like it.