---
looks good!
yea gotta start somewhere, anyways 600cm sounds rather large (!)
가장 큰 짐이 있는 큰가지, 낮게 걸림새에는
(The bough that has largest load, hang lowest)
Member
Posts: 166
Joined: Sun Sep 23, 2007 2:19 am
Location: Birkenhead, Auckland
---
Well here it is in all its glory...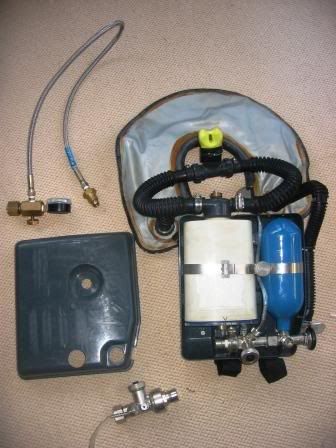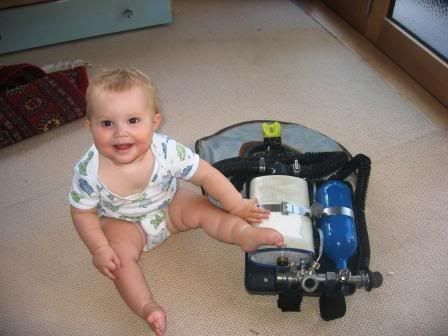 The blue tank is a .7 litre 200 bar unit.
The white thing is the scrubber cannister which holds about 1kg of sodalime. These are usually a single use item with the RG's but this has already been modified to a refillable one.
Underneath the tank is the regulator unit. Its job is to supply a contstant .8l flow of O2 into the system regardless of depth. It does this by droping the pressure down to about 70 psi (5bar) and using a CMF (constant Mass Flow) sonic oriface similar to what KISS rebreathers use.
The reg also has a OPV and a IP adjustment and also a manual add button to inject a little more O2 when needed.
Exiting from the top of the scrubber is the breathing hoses and the horse shoe shape counter lung.
All in all its a pretty simple system as most O2 rebreathers are.
Dave Ray (who has built RBs in NZ since the '80s) has kindly offered to join me in the pool for a test dive. He also owns a RG.
Also included was a second regulator system (I think it may be damaged)
A trans fill whip, some tools, Sodalime and various other odds and ends.
My goal is to add a offboard dilutant tank and PPO measurement and turn it into a mCCR with OC bailout. And be able to dive it to 30 meters. The scubber and O2 tank should be good for about 2 hours I think.
Not bad for a $360 trade me deal aye!!
Packhorse
---
---
It would be worth having a chat with both Pete Mesley and Greg V - they've both done conversions/home builds and should be able to give you some good pointers.

Apparently, though I can't confirm it, Barry Hallett at Southern Cross Divers in Sydney offers a 'home build' rebreather training course.
Serial Poster
Posts: 4628
Joined: Thu Feb 01, 2007 1:29 pm
Location: Auckland
---
Thanks Andy.
I have been meaning to talk to GregV.
I am also going to catch up with a few other RB divers/modders soon. I certainly have a lot to learn.
Packhorse
---
Pete's written an article about his first home build, that may be of interest...... just don't let Cat see the name!!!
http://www.deeperblue.net/article.php/426/33
Serial Poster
Posts: 4628
Joined: Thu Feb 01, 2007 1:29 pm
Location: Auckland
---
---
---
Who is online
Users browsing this forum: No registered users and 1 guest