Reasonable vis at Goat yesterday but a tad cool.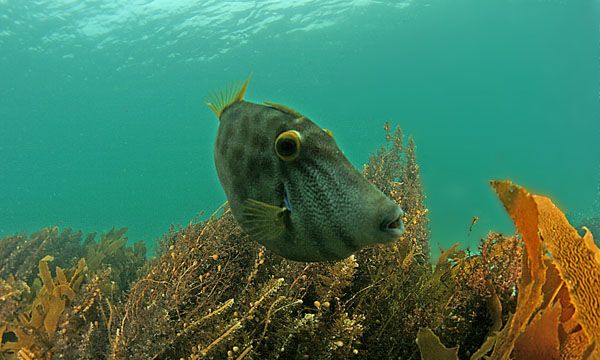 U/W Photographic genius
Posts: 676
Joined: Thu Feb 15, 2007 9:39 pm
Location: Warkworth
---
You scare off all the fishes? Never seen GI that devoid of fish :p
Member
Posts: 138
Joined: Mon May 28, 2012 4:51 pm
---
like that last shot. I must go there some time. were you shore diving?
Member
Posts: 196
Joined: Wed Apr 04, 2012 7:28 am
Location: Northland
---
Yes just off the beach, there wasn't a huge number of fish around, might have another nosey tomorrow.
U/W Photographic genius
Posts: 676
Joined: Thu Feb 15, 2007 9:39 pm
Location: Warkworth
---
How cool? Great pix
DiveDiva
Forum Administrator
Forum Administrator
Posts: 3062
Joined: Sat Nov 11, 2006 4:23 pm
Location: Pommieland
---
Thanks for the report, it's always nice to see the goat, but it seems that the fish were in short supply.
Matt.
Forum Administrator.
I cant think of anything more relaxing, than being in the downunder, breathing some nice clean fresh filtered 21% nitrox.
Forum Administrator
Posts: 324
Joined: Tue Jul 31, 2012 8:43 pm
---
I posted the following in another GI thread, but wanted to post this here too just to catch any more people
I just wanted to have a little rant here. I certified in the beginning of 1988, after being an avid child snorkeller at Goat Island for as long as I can remember (we had a bach at Leigh). I got to know Goat Island very very well for at least a decade and a half. This is the place that made me want to become a marine biologist. At that point life changed and I didn't really get to go back very often.
After living overseas for several years I returned to GI in 2007. I was
APPALLED
and severely disappointed at the barrenness of the environment, and the COMPLETE lack of fish. Bear in mind I had seen GI in its "glory days" when people were still allowed to feed the fish, and it was a tremendously rich and vibrant place to experience a great diversity of fish life.
Now it is just somewhat of a wasteland, a "ghost town" of what was once a thrilling place to enjoy as youngster.
Very very sad. Does anyone else feel the same way?
Bear in mind I haven't been back since, so perhaps it is getting better again?
PS There's some very interesting info on the seafriends website on what has happened to this (once) special place. (
http://www.seafriends.org.nz/issues/cons/lessons.htm
)
Newbie
Posts: 4
Joined: Thu Jan 15, 2009 3:30 pm
---
Double posting ( especially on your first post!!!!) is pretty poor form.
Regardless.... you are comparing a dive site from decades ago to 6-7 years ago and complaining and yet you haven't been back recently?
Member
Posts: 1288
Joined: Fri Apr 03, 2009 1:51 pm
Location: over here.
---
Yeah ok, double-posting wasn't great - but let's face it, this place is a ghost town anyway
Yes, I am. I was most interested in sparking a discussion about how good a quality the marine reserve is now vs. my experiences. Have you got anything to offer to the discussion? You seem to be quite offended to which I am quite confused.
Newbie
Posts: 4
Joined: Thu Jan 15, 2009 3:30 pm
---
I just think its strange that you compare a dive site in 2007 to how it was in 1988 and and claim its now just a waste land even though you admit you have not been there recently.


I cant really comment on the changing state of Goat Is as its not some where I have spent a lot of time, although the times I were there it seemed to have more life that any other dive site near by.
Member
Posts: 1288
Joined: Fri Apr 03, 2009 1:51 pm
Location: over here.
---
Well, it is a MARINE RESERVE (NZs first) - why would I
expect
the fish life to decline over time? I assumed when I went back that it would be just as good as it was before. I was sorely mistaken - it WAS a wasteland. People don't go to the Poor Knights now and expect to see barely any fish life do they? Why should this marine reserve be any different?
If you had read the link provided in my initial post, they make very interesting points about what the development of the surrounding areas of the reserve (public amenities / roads etc) had in regards to a negative impact on the reserve, alongside the DOC knee-jerk reaction to prohibit the public feeding of the fish.
Obviously I'm not calling it a wasteland now as I don't know (although in my initial post, yes, I said "now". This was wrong). Hence the question at the end of my post, "perhaps it is getting better again?"
I was hoping to trigger a discussion about the reserve and its current state, and
in my experience
, found the changes made by local council and government to be hugely detrimental to the site.
Due to reasons beyond my control, I am no longer able to see for myself. I still regard the reserve as a very important part of New Zealand and have concern for what I saw (shouldn't we all?). I would like my kids to experience what I did.
Newbie
Posts: 4
Joined: Thu Jan 15, 2009 3:30 pm
---
---
Who is online
Users browsing this forum: No registered users and 1 guest