Source: stuff.co.nz
The Conservation Department has confirmed the dead dolphin found washed up on a Bay of Plenty beach is "probably" Moko.
DOC spokeswoman Katrina Knill said based on the sex, size and markings, it appeared the body was that of the bottlenose dolphin who has entered New Zealand folklore with his friendly antics in the past two years.
It was impossible to tell for sure without DNA testing, she said.
"We are now working on the basis that it is him."
DOC ranger Jamie Quirk said: "based on the size, markings and teeth of the carcass, we think that this is Moko."
Tauranga website sunlive.co.nz published pictures of a dead dolphin, found on Matakana Island.
The dolphin is believed to have been dead for around two weeks, the same period of time since Moko was last seen.
The Department of Conservation had expressed concern that there were no recent sightings of Moko.
Normally with dolphin deaths they would leave nature to take its course, but due to the public interest, they would perform an autopsy to ascertain the cause of death.
As Moko was a wild animal, it could be a number of things.
Marine biologist Amy Taylor, who has been making a film about Moko, said she was about to depart on a boat to help identify the dolphin this afternoon.
DOC Tauranga area manager Andrew Baucke said Moko was a wild animal and his death could have been caused by any number of factors.
"We'll be taking steps to identify the cause of death and dispose of the body appropriately," he said.
"This is a sad loss. The way that Moko interacted with people really inspired public interest and care for dolphins and marine mammals and their environment in general.
"I'm sure that those who got to see and swim with him will treasure those memories."
DOC hoped to retrieve the body this afternoon. It was unclear how long it would take to confirm the cause of death.
Moko made news around the world when he apparently saved the lives of stranded pygmy sperm whales at Hawke's Bay's Mahia Beach.
His spreading fame made him a tourist attraction, but as he grew larger and his play became rougher swimmers were warned to keep their distance.
Report of attacks on Moko raised fears that his association with humans could ultimately prove fatal, as it was with other dolphins which have entered New Zealand folklore.
Moko moved to the Bay of Plenty after initially coming to fame swimming and playing with humans in Hawke's Bay.
"People have had a lot of enjoyment from interacting with him and learned lots about dolphins and cetaceans. He was a unique part of New Zealand history," Mr Quirk said.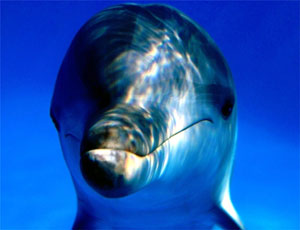 RIP MOKO
.